Our Services
Swimming Lessons
Our Program
Y.S.C. is a member of the Royal Life Saving Society and uses the nationally recognised Swim and Survive program. Benefits of our program include:
Our lessons cater for all ages, from 6 month old babies through to adults.
We run 48 weeks per year which helps children to progress faster.
A squad program and club environment for children to move into.
Structured levels ensuring consistency and progression.
The promotion of important life skills and encouraging a healthy lifestyle.
Pathways for future employment.
A flexible program allowing for make-ups and additional lessons.
Prices
Annual Lesson Membership $30
Lesson Prices:

Peak Lesson* $17
Off-Peak Lesson* $15
Casual Lesson $20
* Peak Lesson times are between 4pm-7pm weeknights and 9am-12pm Saturdays. All other times are classified as off-peak. Lesson membership forfeits upon cancellation of lessons or where 4 lessons are missed without notice. Make up lessons/holding fees apply where lessons are missed.
Lap/Recreational Swimming
Lap/recreational swimming is available at the following times:
Monday-Thursday: 8am-4pm, 7pm-9pm (excluding Fridays)
Friday: 8am-4pm, 6pm-7pm
Saturday-Sunday: 12pm-4.30pm
Please note that lane space may be limited during peak lesson times.
Lap Swimming Prices
Adult (non members)* $5
Pensioner/Student/Child (non member) $4
* Discounts apply for members – see memberships.
Aqua Aerobics
Cater for all ages and abilities.
Our unique soft and non slip pool floor ideal for aqua aerobics.
Suitable rehabilitation for people with back, hip and knee problems.
Aqua Aerobics Times
9.30-10.30am Monday, Wednesday and Friday
8pm-9pm Mon/Wed
Aqua Aerobics Prices
Adult (non-member)* $10
Pensioner/Student/Child (non-member)* $5
* Discounts apply for members – see memberships
"I started Aqua Aerobics 7 months after a knee replacement operation. The exercise has helped me greatly and my fitness has improved."
Swimming Club
Y.S.C. runs a swimming competition every Sunday afternoon between 5pm and 7pm. At the end of each season trophies are awarded based on points received over the season.
Parties
Y.S.C. pool parties are a great way to celebrate your child's special day. Price includes the use of the pool with instructors acting as party co-ordinators. The instructors will organise games and supervise children in the water, leaving parents to relax. We also have a party room available for hire if required and facilities available to heat food.
Party Prices
Pool use:
Up to 10 children* $70/hr
10-20 children* $140/hr
Party Room Hire $40
* If children are under 6 cost will be $60/6 children due to need for greater supervision (maximum of 6 children:1 instructor).
Adult Squad/Lap Swimming
Wide variety of levels and abilities catered for.
Qualified coach for all sessions.
Opportunity to train for open water events and meet new people while getting fit.
Adult Squad Times
8pm-9pm Tuesdays and Thursdays
Price
$12/session*
* Discounts apply for members – see memberships
Lap Swimming
Monday-Thursday: 8am-4pm, 7pm-9pm
Friday: 8am-4pm, 6pm-7pm
Saturday-Sunday: 12:30pm-5pm
Surfing
(Level 5 ) Held every summer during first term at Ocean Grove Beach. A number of levels can be attained. Cost $220 5/lessons 2 hours each. Board & wet suit hire available. Book at reception.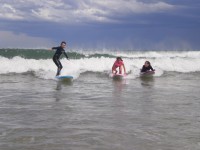 Marine Biology (Level 4+)
A great way to use your swimming skills and learn about the underwater environment. Cost $110 2 x 2hr sessions including boat activities 2nd week. Book at reception.