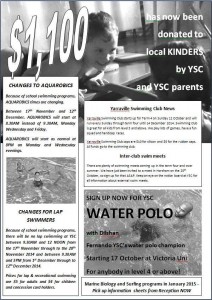 Term 1 Newsletter 2016
View our term 1 Newsletter here:
YSC newsletter Term 1, 2016
YSC Awards Night
Surfing News
Marine Biology
Life Saving Victoria Junior Pool Championships
National & State Competitions
Rising Star Award
Adult Squad
Term 2 Newsletter 2016
Coming Soon
LATEST NEWS
WATER SAFETY WEEK
Water Safety Week was a wonderful success with many of our swimmers learning what to do if they, or somebody else, got into a difficult situation in the water.
Parent's please remember it is important to reinforce these lessons at home to help reduce the risk of drowning.
For more information on water safety and fun activities for your children please visit the kids alive – do the five website http://www.kidsalive.com.au/index.php
Holiday Closure
Just a reminder to everyone that the pool will be reopening on Monday January 14 at 6am.
Time trial Results
Congratulations to all of the swimmers who participated in our time trials on December 2.
Special mentions go to the following swimmers:
Henry Thompson – 25 Backstroke – 25.55
Rhys Cocking – 25 Breaststroke – 33.10
Rhys Cocking – 25 Butterfly – 29.36
Henry Thompson – 25 Freestyle – 26.90
Ewan Cocking – 50 Backstroke – 47.95
Isobel Robertson – 50 Breaststroke -56.08
Isobel Robertson – 50 Butterfly – 57.37
Ewan Cocking – 50 Freestyle – 46.05
Isobel Robertson – 100 I.M. – 1.52.52
Most improved swimmers were:
Henry Thompson – 25 Backstroke – 19%
Henry Thompson – 25 Breaststroke – 10%
Hannah Allen – 25 Butterfly – 23%
Hannah Allen – 25 Butterfly – 1%
Amelie Le Grand – 50 Backstroke – 10%
Max Le Grand – 50 Breaststroke – 13%
Isobel Robertson – 50 Butterfly – 4%
Ciara Nolan – 50 Freestyle – 14%
Isobel Robertson – 100 I.M. – 5%
A full list of results will be available on the whiteboard near the pool entrance from Monday December 17.
Water Safety Week
We will be holding water safety week from December 10 through to December 16 2012. Level 4s and above need to bring along an old long sleeved t-shirt and pants and level 3s should bring an old t-shirt and shorts.
The purpose of water safety week is to ensure that swimmers at our centre learn how to be safe in all water environments and situations. It is an extremely important part of our program and we encourage all students to participate and for parents to take this opportunity to educate their children (and themselves) about safety around water.
Please check out our facebook page for tips on how to keep your family safe around water over Summer. Also, have a look at the websites below for more information.
http://www.kidsalive.com.au/
http://sls.com.au//be-safe
Have a safe and happy Christmas and holiday season.
Our timetrials have been postponed again until December 2 due to lack of entries. Please note that this meet is compulsory for swimmers in level 4 or above. Participation in this meet helps build and maintain children's interest in swimming and also allows us to gauge the improvement of individual swimmers which provides us with vital feedback about our lesson quality.
You can download the entry form from the link to the term 4 newsletter above.
TIME TRIAL RESULTS:
Congratulations to the following swimmers for achieving the fastest times in an event:
25 Free: Max LeGrand – 24
25 Back: Marcus Nikolovski – 28
25 Breast: Max Le Grand – 34
25 Fly: Amelia Mazza-Downie – 24
50 Free: Daniel Cave – 33
50 Back: Chris Breedon – 38
50 Breast: Angus Campbell – 43
50 Fly: Daniel Cave – 40
100 IM: Daniel Cave – 1.28
For a full list of results, please see the time trials section of the website, or the boards at the pool.
SURFING:
Our surfing program finished on the 1st of April with a BBQ and concert, where all participants received a certificate for reaching a particular level and skill requirement. Over the nine week course, both the kids and adults from the Beginners and Advanced groups learnt how to cope with sea conditions, with everything from perfect conditions, to 3m rough swells for some in the advanced group!
To view the many wonderful photos please visit the photos section of our page.
MARINE BIOLOGY:
This year we tried using a boat for the first time, and we will be using a GPS next year to locate the best sites for diving next year! The centre is also planning to purchase its own boat for Marine Biology for 2013, which is very exciting!
Our thanks to Dani Beck for her expertise and enthusiasm when teaching the kids not only about marine biology and how to surf, but showing them that learning how to swim can open more doors to many fun activities such as these!
RESULTS:
Congratulations to the 7 swimmers from YSC who competed in the Metro West all Juniors Semi Finals on the weekend. A special mention to Bianca Mathews, Tommy Smith and Sorcha Taylor for qualifying for the finals. Bianca also won a bronze medal with an excellent performance in the 8&u 50 Free.
For more results, please visit the swimming club section of the website.
TIMETRIALS:
Time trials will commence the week beginning Monday the 23rd of April for Level 4 and above.
Level 4 kids will be timed in 25 Freestyle, 25m Backstroke, 25m Breaststroke and 25m Butterfly.
Level 5 kids will be timed in 50m Freestyle, 50m Backstroke, 50m Breaststroke and 25m Butterfly.
Level 6 and above: will also do a Medley and 50m Butterfly (as well as 50m Freestyle, 50m Backstroke, 50m Breaststroke)
SAFETY WEEK:
Safety week is BACK for Term 2, commencing the week beginning on Monday the 14th May. Those who are in Level 3 can you please bring along an old pair of shorts and a t-shirt to wear in the water, and those who are Level 4 and above, can you please bring an old long sleeve t-shirt and pants.
LEVEL 5 AND 6 kids: will have a survival test at Altona Pier on Sunday afternoon at 2pm on the 20th May. Please bring along a wetsuit as it may be cold on the day. Some wetsuits will be available, but there is no guarantee that there will be one available in your size.
OLDER NEWS
SURF'S UP FOR YSC
By Kirstie Fitzgerald
The air was hot and the beach was packed, as five young kids braved the conditions down at Ocean Grove to learn how to surf.
As part of a five week program run by the Yarraville Swim Centre, the advanced 'Bar Break' surf course runs every second Sunday starting from the 12th February to the 8th April.
The course teaches children the ability to understand the ocean, to catch difficult waves, to perform tricks as well as surf safety skills which teaches children how to get out of danger when the waves become too strong.
Surf instructor Dani Beck has been surfing for many years, starting when she was just 11 years old. Having been around water for most of her life, Dani is now following her passion into the sports industry, taking up swim teaching part time at the Yarraville Swim Centre.
"Surfing is a difficult sport; it takes guts for anyone to get out there, especially learners as they take a lot of pounding from the waves before they get the rush of surfing."
Before the children enter the water, the group spends time on the beach recapping on what was learnt the previous week, as well as some technical skills which are easier taught on the shore.
"My surf lessons always start with safety reminders first. I always try recap on things learnt from previous weeks and set some new challenges to reach as well. Once we have had our briefing we all head to the surf and practice." Ms Beck said.
The Yarraville Swim Centre has been providing surf lessons for two years, and believes that one of the reasons people learn to swim is because it provides the opportunity to be able to do a lot of other water based activities, such as surfing.
In its third week of the course, Ms Beck is blown away by the improvements already seen in the children each lesson.
"Everyone's confidence in the water has improved since the start. All surfers are paddling more effectively to get out past the break quickly. Some tricks are being mastered including standing on one foot while surfing!" Ms Beck said.
13 year old Ciaran L has been swimming at the Yarraville Swim Centre for three years, and participates in the advanced Bar Break course each fortnight.
"The best part about surfing is how fun and enjoyable it is. The most important thing I've learnt is how to identify rips and do an Eskimo roll. I wouldn't have been able to do surfing if it wasn't for YSC," he said.
Surfing lessons are available to those capable of swimming 400 metres continuously in any style, or for those with a Level 5 swimming ability.
A beginner's 'Shore Break' course is also available for those who have little experience surfing, running every alternative Sunday to the advanced course, concluding on the 1st of April.